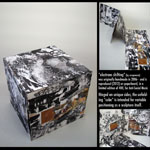 This special vinyl release from new-music collective Anti-Social Music was literally years in the making. It's two orchestral collaborations, resuscitator
with NJ hip-hop crew dalek and Detroit experimental group His Name Is Alive, men's health
and comes in a fold-out 3D sculptural package by the artist Scrapworm. Limited edition of 400, on 180-gram vinyl.