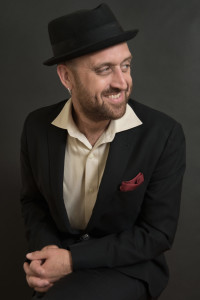 Franz Nicolay is a musician and writer who lives in New York's Hudson Valley. In addition to records under his own name, he was a member of cabaret-punk orchestra World/Inferno Friendship Society, "world's best bar band" the Hold Steady, Balkan-jazz quartet Guignol, co-founded the composer-performer collective Anti-Social Music, was a touring member of agit-punks Against Me!; and recorded (complete discography here) or performed (complete list here) with everyone from Leftover Crack to The Dresden Dolls. He was once named #1 of "Punk's 10 Best Accordion Players." He studied music at New York University and writing at Columbia University (where he was awarded a Felipe P. de Alba Fellowship). He was awarded a composition fellowship at the Rensing Art Center and writing fellowships at the Ucross Foundation and the Edward Albee Foundation. He teaches at Bard College.

His first book, The Humorless Ladies of Border Control: Touring the Punk Underground from Belgrade to Ulaanbaatar (The New Press, 2016), was named a "Season's Best Travel Book" by The New York Times (read press here). Franz's writing has appeared in a variety of publications (including LitHub, Longreads, Fiction Advocate, The Week, VICE, Noisey, NewMusicBox, Blender, Impose, and more) and several anthologies. His story collection "Complicated Gardening Techniques," was published by Julius Singer Press in 2009 (more writing here).
As a solo act, he has appeared on the comedy/variety shows Late Night With Jimmy Fallon, Hot Tub (hosted by Kurt Braunholer & Kristen Schaal), The Chris Gethard Show, Tell Your Friends (hosted by Liam McEneaney), Radio Happy Hour, and The Moon Show. As a member of The Hold Steady and Against Me!, he appeared on The Late Show with David Letterman, The Tonight Show with Jay Leno, Later…With Jools Holland, Late Night with Conan O'Brien, Jimmy Kimmel Live, and The Late Late Show with Craig Ferguson.
He has written scores or directed music for several works of dance theater, including choreographers Alison Chase (founding artistic director of Pilobolus and Momix), Ivy Baldwin, Chelsea Bacon, and Diane Carroll, as well as for film and television. 
Photo by Susan Lirakis.