Franz's writing has appeared in publications including The New York Times, Slate, LitHub, Longreads, Fiction Advocate, The Week, VICE, Noisey, Talkhouse, NewMusicBox, Blender, Impose, InDigest, Vol. 1 Brooklyn, and more. He was a contributor to the anthologies It All Changed In An Instant: More Six-Word Memoirs
(Harper Perennial); Rock Torch: Volume 1, a collection of musicians recommending other musicians; The Road Most Traveled, a collection of essays about touring life curated by Chuck Ragan; and Waiting To Be Forgotten: Stories of Crime and Heartbreak, Inspired by The Replacements (Gutter Books). He studied writing at Columbia University (where he was awarded a Felipe P. de Alba Fellowship). He was awarded and writing fellowships at the Ucross Foundation and the Edward F. Albee Foundation. 
His first book, The Humorless Ladies of Border Control: Touring the Punk Underground from Belgrade to Ulaanbaatar (The New Press, 2016), was named a "Season's Best Travel Book" by The New York Times (read press here).
 [Click here for selected links to writing online]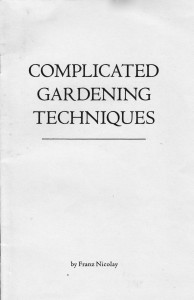 Franz Nicolay's first collection of stories, Complicated Gardening Techniques, was a six-story chapbook released by Julius Singer Press, an independent Brooklyn imprint. It's "real things that happened to me and people I know, fake things that might have happened to people you know; loosely fictionalized and highly stylized with handy tips and pithy epigrams." [BUY]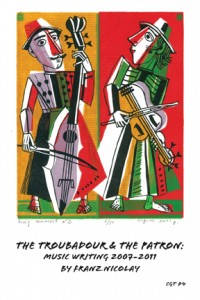 A collection of magazine pieces, essays, reviews, and stories about music; including a tale of working as a strolling accordionist at an Italian restaurant in Hoboken and thoughts on musicians as varied as T.V. Smith, Mark Kozelek, and the Carpenters. [BUY]
Long form analyses and meditations on late-period Bob Dylan as reflected through Adorno and Edward Said; and a career retrospective of punk heroes Subhumans. [BUY]
Tour diaries; including stories about the Hold Steady opening for the Rolling Stones, overnight drives over the Slovenia/Croatia border with a drunken Russian rugby team, and much more. [BUY]
SELECTED WRITING ONLINE
"'Good Booty': The Sexual Power of Music," The New York Times (book review), August 2017
"The Rise and Decline of the 'Sell-out'," Slate, July 2017 
"De-Graded: Music Criticism and Regressive Reading" (op-ed), Watt, July 2017
"Was This It?" (book review), Slate, June 2017
"On Listening to Jens Lekman in January 2017," The Talkhouse, February 2017
"The Inevitable Institutionalization of Rock," Watt, December 2016
"A Stranger In The World," Longreads, October 2016
"Dispatches From A Punk Tour of the Balkans," LitHub, 2016
"The Hotel Mongolia," Fiction Advocate, 2016
"Editorial: The Fair Play Fair Pay Act and why copyright law needs to change" (Punknews, June 2016)
"What You Missed When You Stopped Listening At Prince's Best-known Albums" (The Week, April 2016)
"Changing The Country, We Apologize For The Inconvenience" (Ukraine Tour Diaries) Part One Part Two Part Three (Noisey/Vice Nov. 2014)
"Dispatches From The Road" Part 1 Part 2 Part 3 (Punknews, Nov. 2012)
"The Humorless Ladies Of Border Patrol" (The Ruckus, Oct. 2012)
"Tales from the Road: Russia & Mongolia" (VICE, Oct. 2012)
"Petty Humiliations In The Life Of An Accordion Player" (InDigest, Nov. 2011)
"The Troubadour & The Patron" (InDigest, May 2011)
"Rock Stars, As Observed In The Wild" (Scratchbomb, Aug. 2011)
"Necessary Enemies: Fear & Failure In Popular Performance" (InDigest, Feb. 2011)
"Little Hobbes In The Big Woods" (InDigest, May 2010)
"Complicated Gardening Techniques" (InDigest, May 2010)
"Love, Death, & Knock-Knock Jokes: Adorno, Said, and Late Style In Dylan" (Spectrum Culture, July 2009)
"Work-Rest-Play-Die: The Subhumans" (Impose, July 2009)
Tour Diary April 2009 Part 1 and Part 2 (Punknews, April 2009)