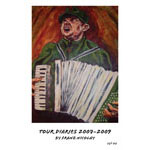 What it sounds like, including stories about the Hold Steady opening for the Rolling Stones and much more. Some of the diaries originally appeared in Impose and Punknews.
Limited quantities remain, and this will not be re-printed.
This is CGT #3.
"This edition of jetlag is a wild Beast. It's a block of raw, prostate pulsing lead where brains should be, poisoning the groundwater; that alchemically mutates into a buzzing stream of language refreshingly unmodulated by conscious control, into which I am, briefly, permitted to dip my hand and drink. It's a stumbling, stuttering, just-palpable foreignness; wonderfully distorting, like wandering the majestic plastic castles at the bottom of an aquarium and only just perceiving the larger world beyond the glass.
My computer seems to share my affliction—capricious and overloaded, spitting proton-streams of data that we rush to capture and tame as we spin out toward an inevitable and unpredictable crash. Forward motion, forward motion, purposeless and relentless, until the sun sets."